Enjoy Shopping at Parco City – A Large-Scale Shopping Center in Urasoe City!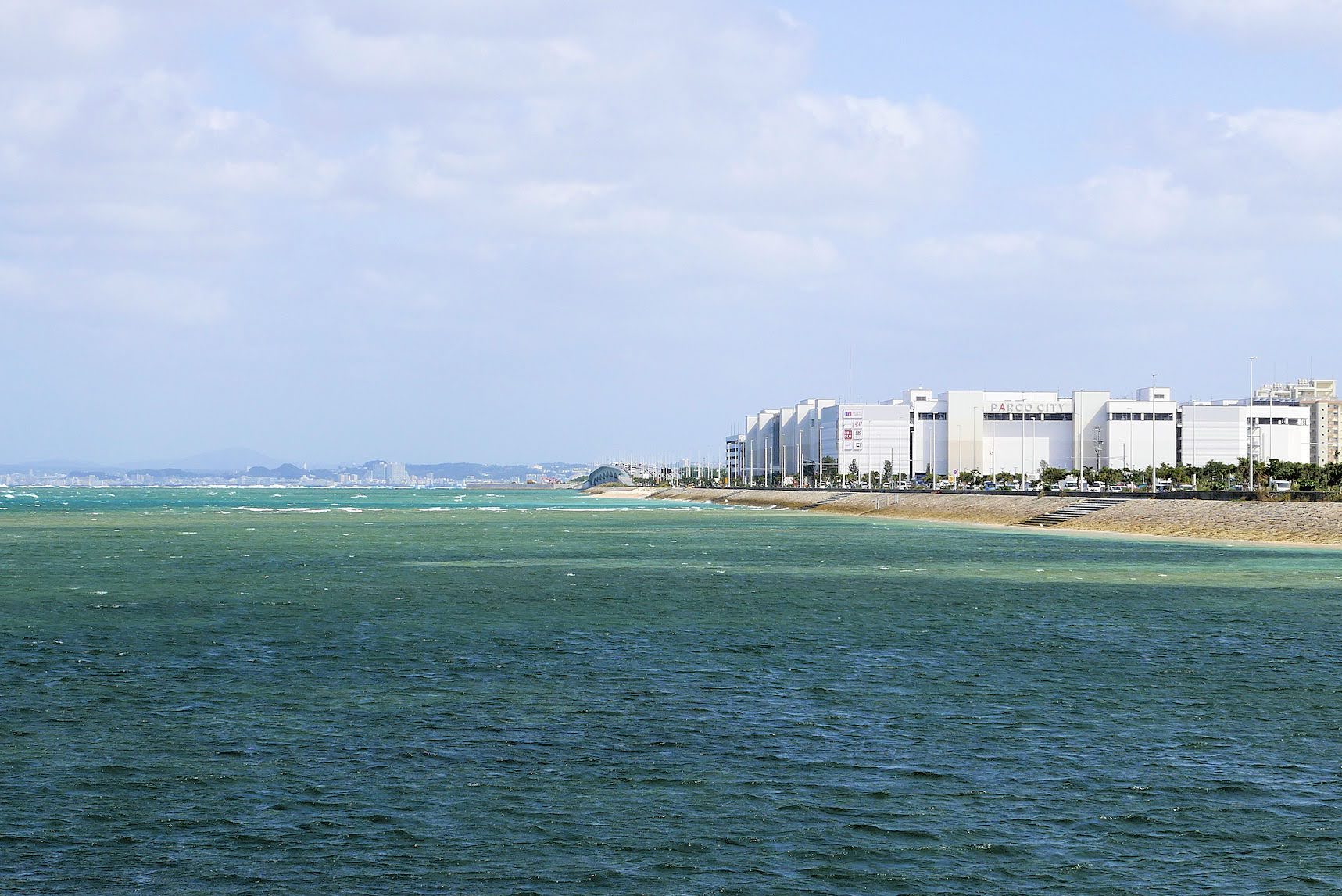 Located on a road that runs along Okinawa's western coastline, San-A Uraose Nishi-Kaigan PARCO CITY is just 15 minutes away from Naha Airport by car. It has a large parking lot that can accommodate around 4,000 cars, so it is a convenient place to shop on the way from Naha Airport to Chatan Town or Onna Village.
Table of Contents
Dine at a Food Court with an Ocean View
Looking for Souvenirs? Go to the Okinawa Street on the 1F!
Take a Break with Coffee & Okinawan Sweets!
Check-out the Observation Deck at the Rooftop Parking Lot !
Dine at a Food Court with an Ocean View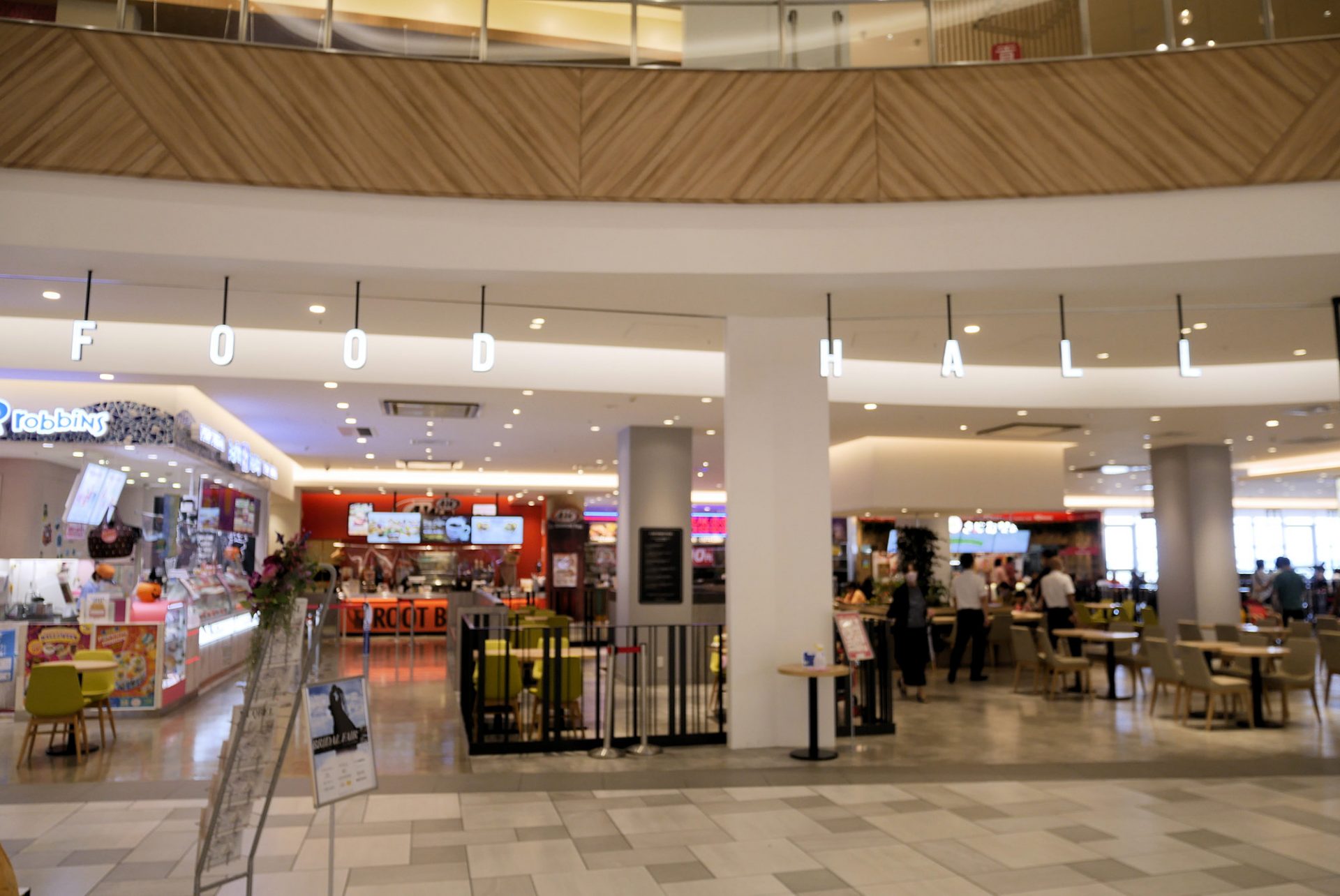 The FOOD HALL on the 2F has 13 restaurants that serve everything from Okinawan cuisine to dessert. The highlight of the food court is as pictured below!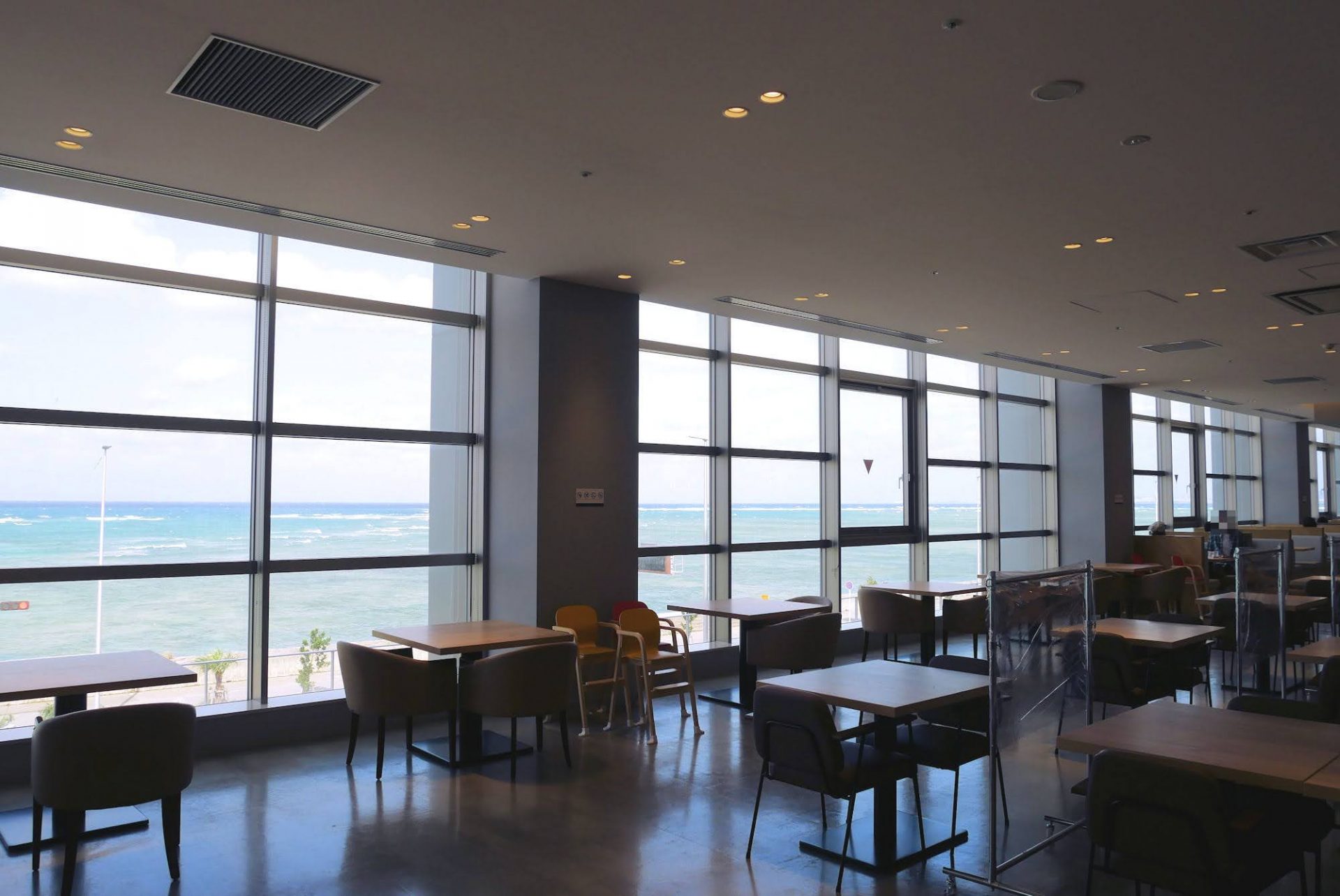 You can enjoy the view of Okinawa's beautiful western coast as you dine. The view from the food court may just be the most exquisite of any food court in Japan!
The Food Hall even includes restaurants serving local foods, such as Okinawa soba (noodle soup) and taco rice.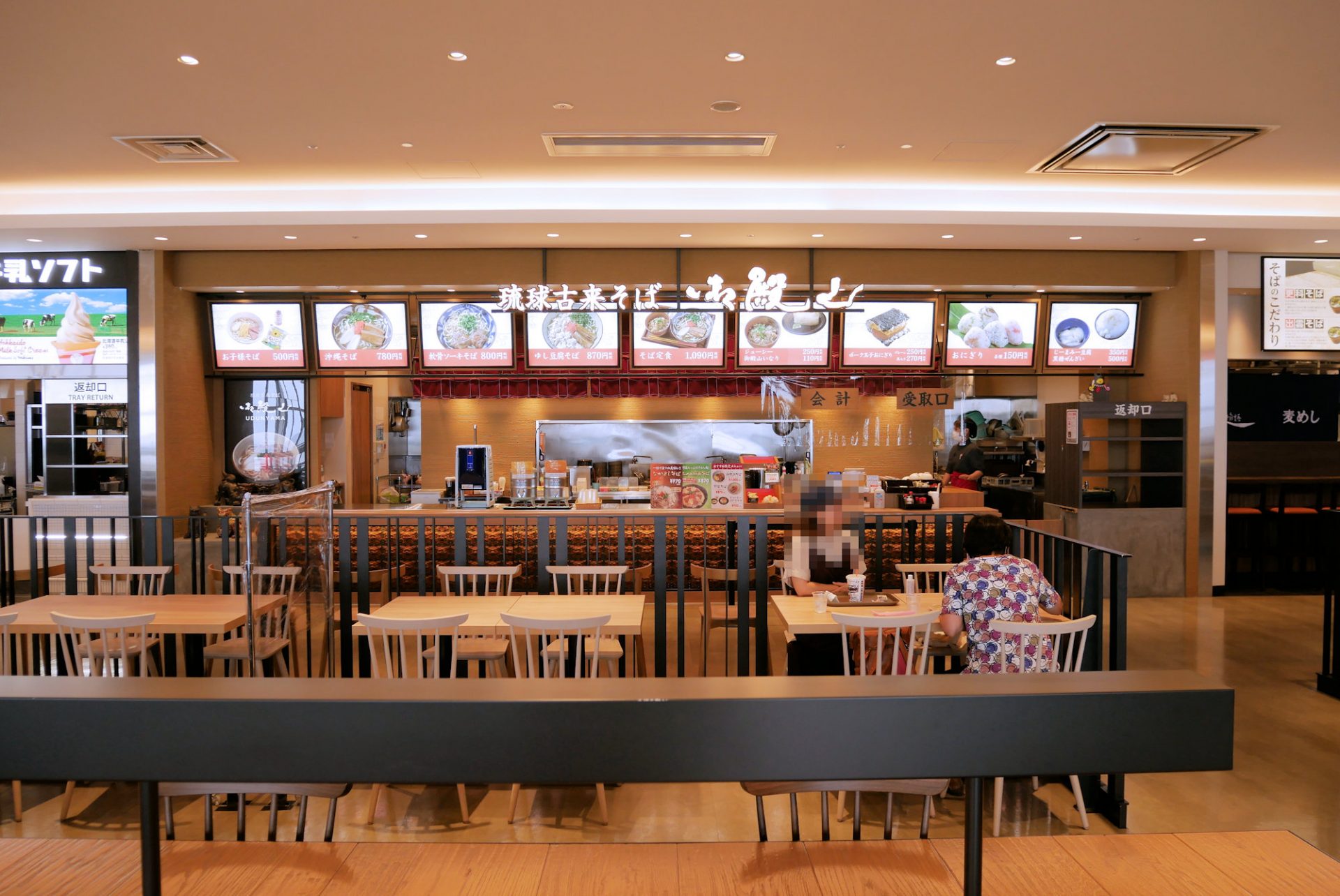 Udunyama is a restaurant specializing in Okinawa soba. The main branch of the restaurant is located in the Shuri area of Naha City and it is the first branch to be opened in a shopping center food court. (There are also branches in Naha Airport and Kokusai-dori Street.) Besides soki soba, which is soba noodles topped with pork spareribs, the restaurant also serves jushi mixed rice and luncheon meat and egg rice balls called "pork tamago onigiri". If you're craving something sweet, Udunyama also has kokuto zenzai, which is shaved ice topped with red beans simmered in brown sugar.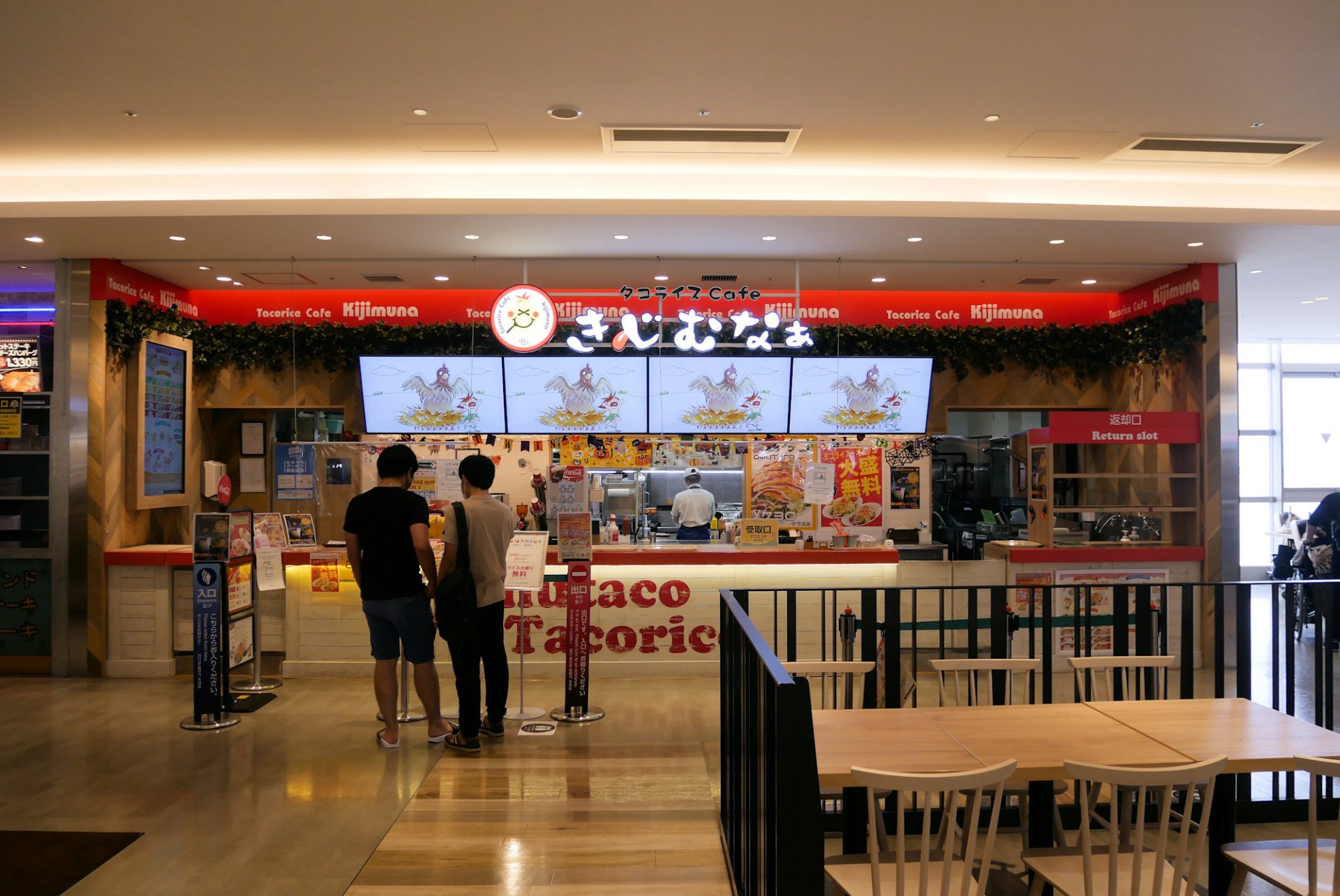 Taco Rice Cafe Kijimuna specializes in Okinawa's local fast food, taco rice. One of their most popular menu items is the Omu-Taco Rice, which consists of taco rice topped with a fluffy egg omelet. As customers can choose the spiciness of the meat, even children can enjoy Kjimuna's taco rice. For those with a large appetite, a large portion of rice can be requested for free.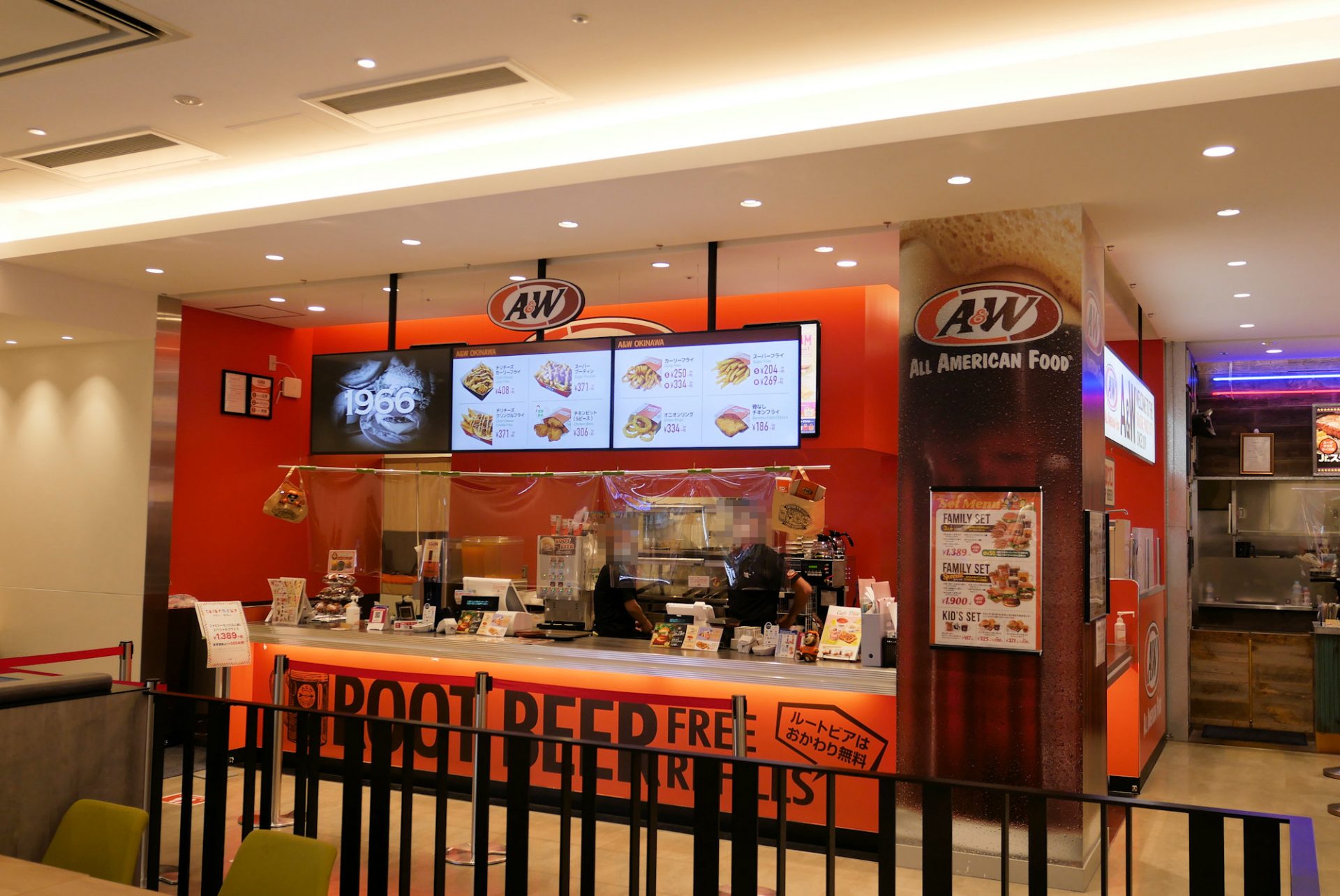 A&W, a fast food chain beloved by residents of Okinawa, even has a branch in Parco City. The most popular menu item at A&W is "The A&W Burger" which includes a hamburger with cream cheese and brown sugar pepper pork. We also recommend the Chili Cheese Curly Fries, which are curly fries with chili sauce.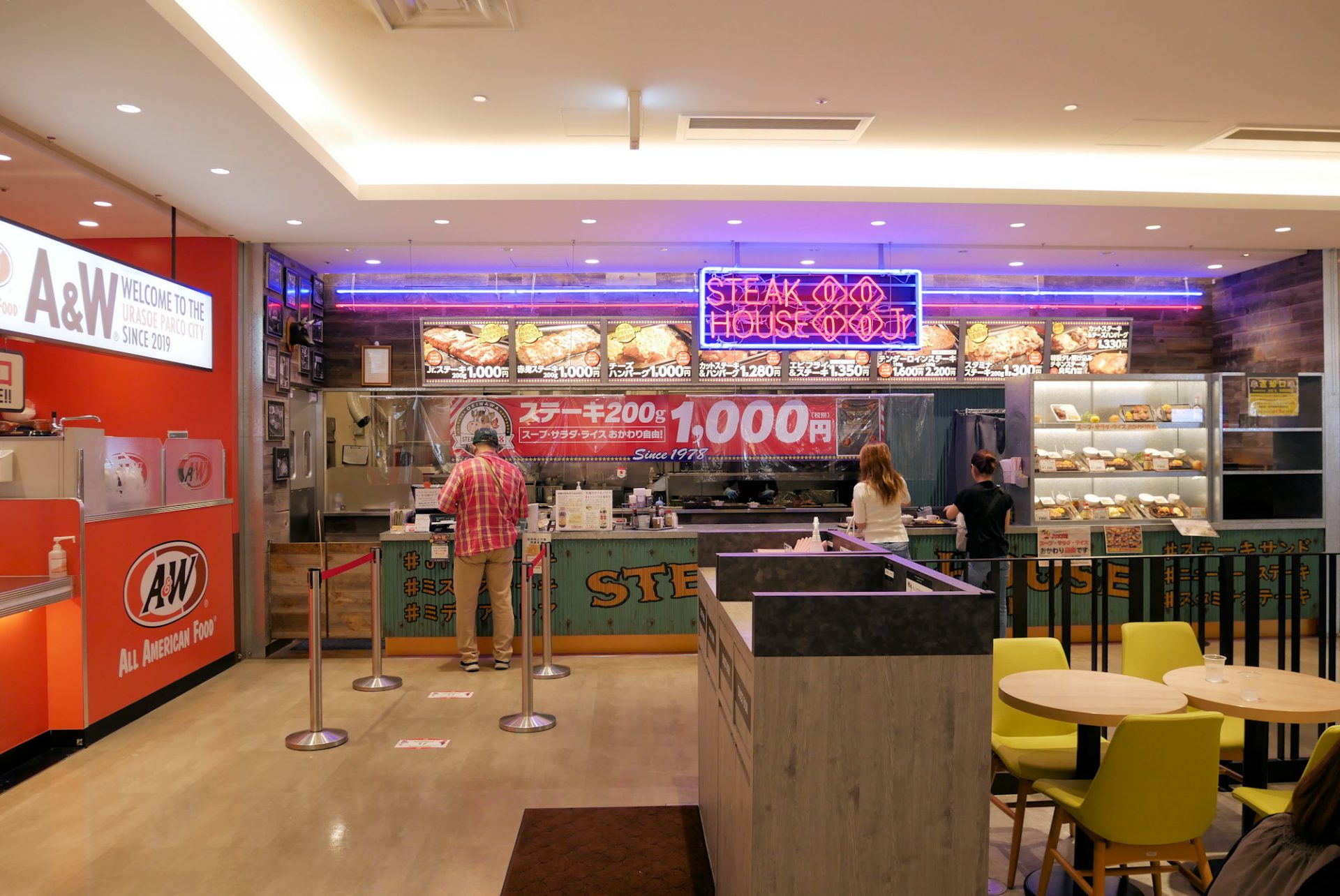 While perusing the food court, you may be allured by the smell of meat grilling at Steak House 88 Jr. The shop is run by Steak House 88 Group, which was established over 40 years ago. Here you can have steak for just JPY 1,000 (excluding tax).
As the 1,000 yen steak comes with salad and soup, it will leave both your belly and wallet happy.
The best part about the food court is that there's something for everyone in the family, so you can all eat in one place even if you have different food preferences. As food courts are more laidback than typical restaurants, it is a great option for families.
Looking for Souvenirs? Go to the Okinawa Street on the 1F!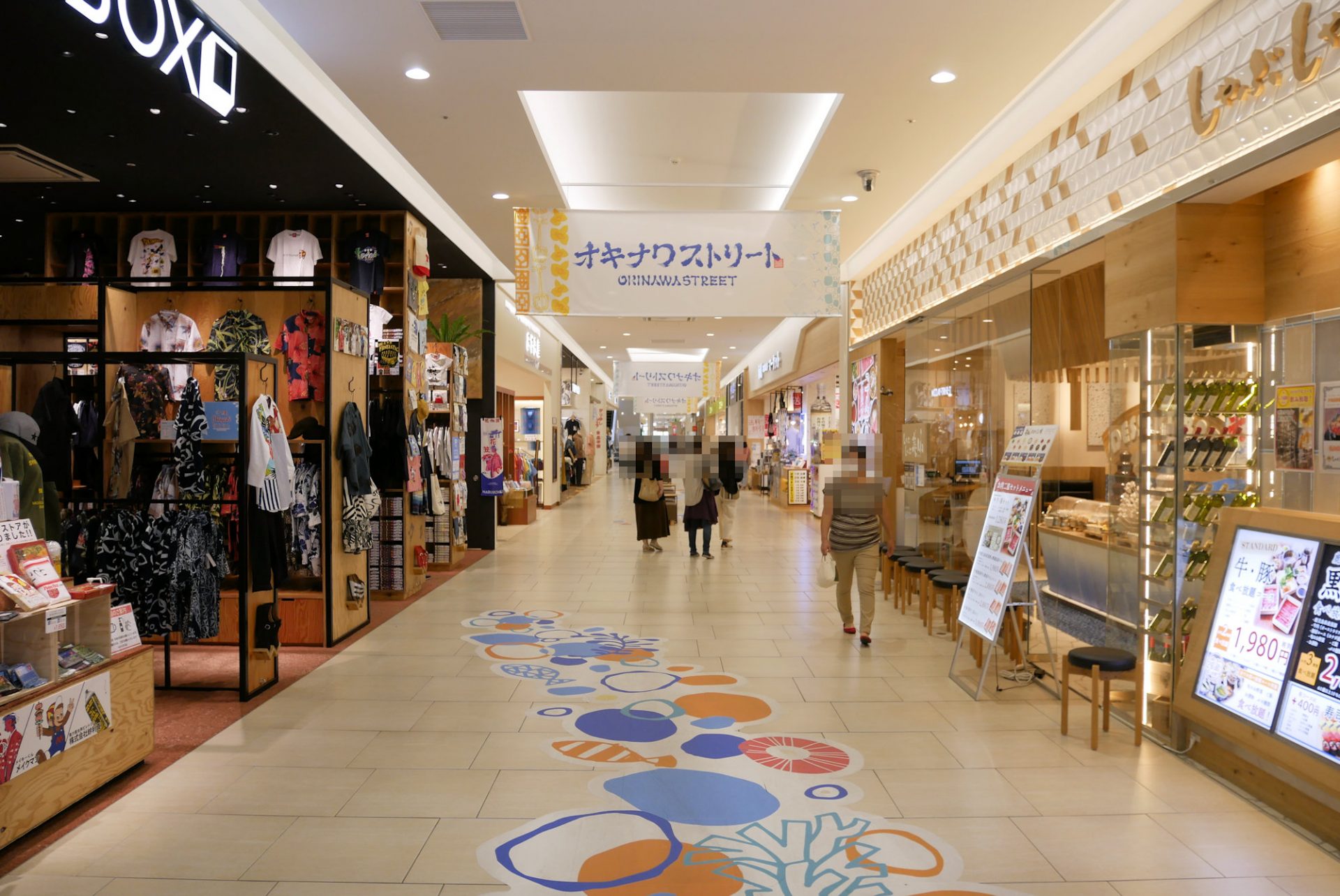 On the 1F there is an area called "Okinawa Street" which is comprised of shops selling Okinawan local products.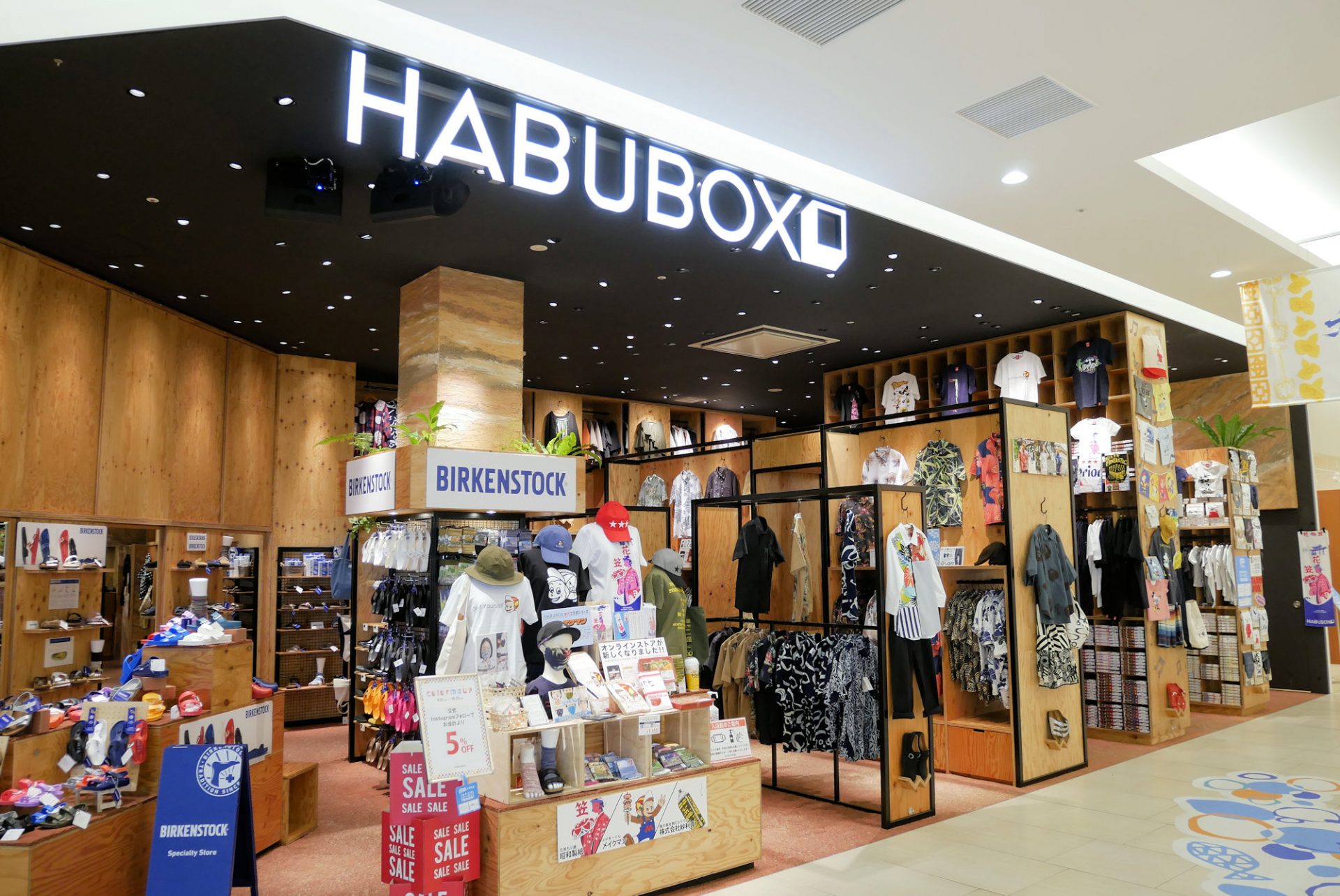 Habu Box is a t-shirt shop that was established 40 years ago. It is known for its original designs that are very unique and humorous. The t-shirts are popular among both locals and visitors and make great one-of-a-kind gifts and souvenirs.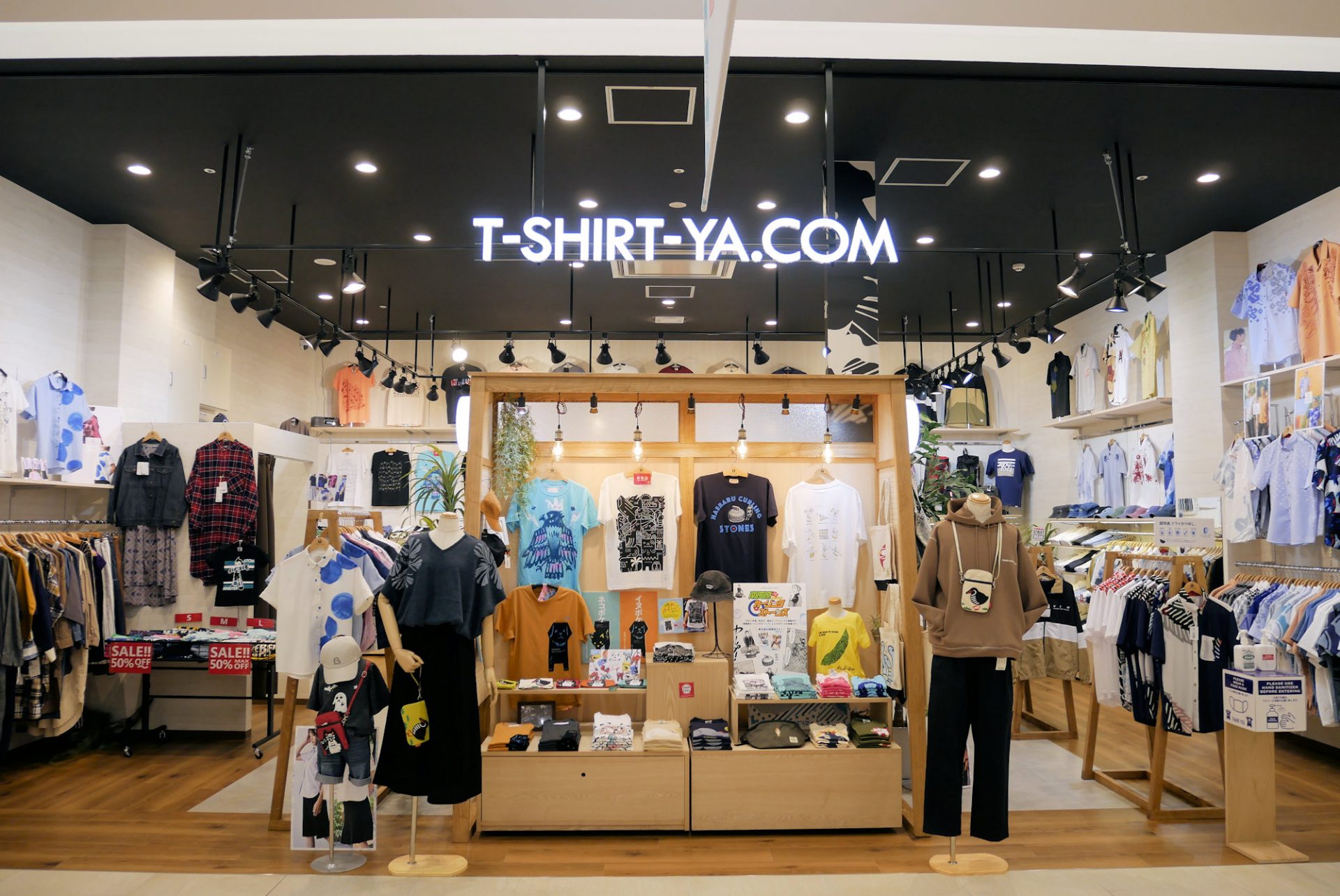 There is a great variety of uniquely Okinawan t-shirts at T-Shirt-Ya.com, whose catchphrase is, "You are guaranteed to find a t-shirt you like." The t-shirts with shisa (Okinawan guardian lion dog) motifs are particularly adorable!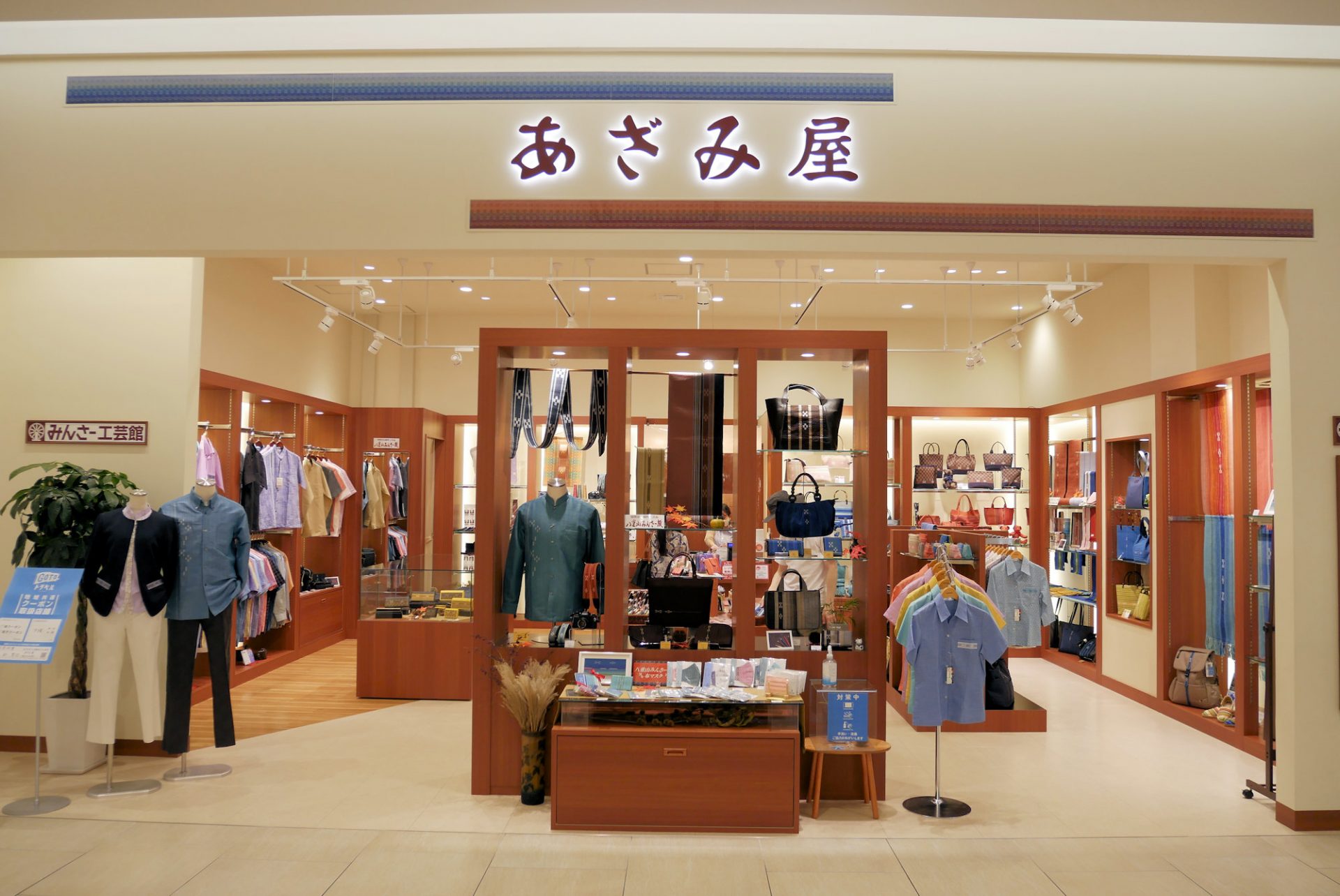 Azami-ya offers products made with the traditional craft, Yaeyama Minsa weaving. Yaeyama Minsa is the traditional weaving of Ishigaki and Taketomi Islands and is characterized by its pattern of alternating 5 and 4 squares. It was traditionally given from wife to husband to express their wish to stay together forever, as the words for 4 and 5 combined have a similar pronunciation to the word for "everlasting". Small items, such as the colorful pouches and tissue cases, make great gifts.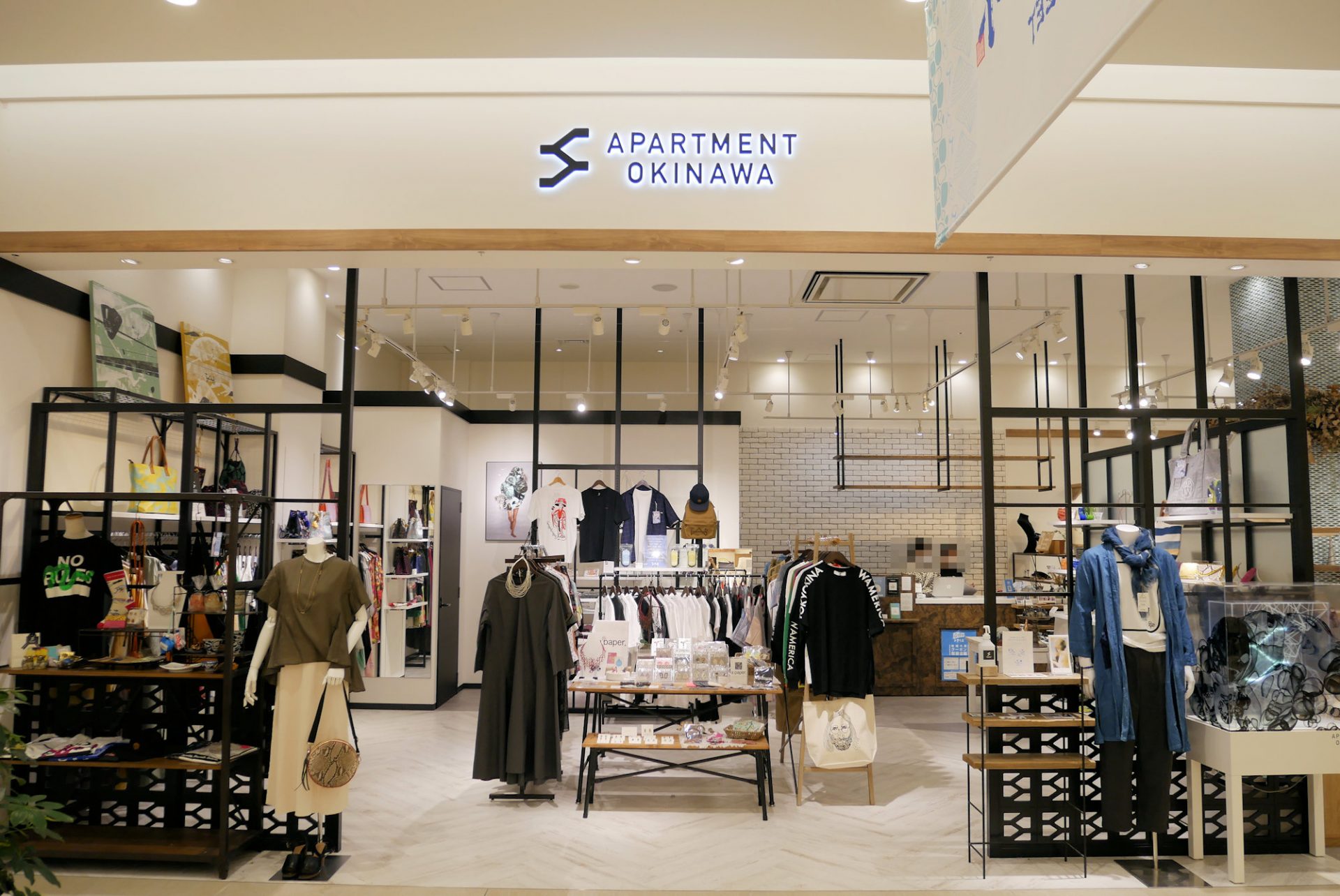 Apartment Okinawa is a specialty shop that offers Okinawan clothing and accessories. The shop carries 27 brands, all of which are very fashionable and chic. If you're interested in Okinawan fashion designers, be sure to check-out this shop.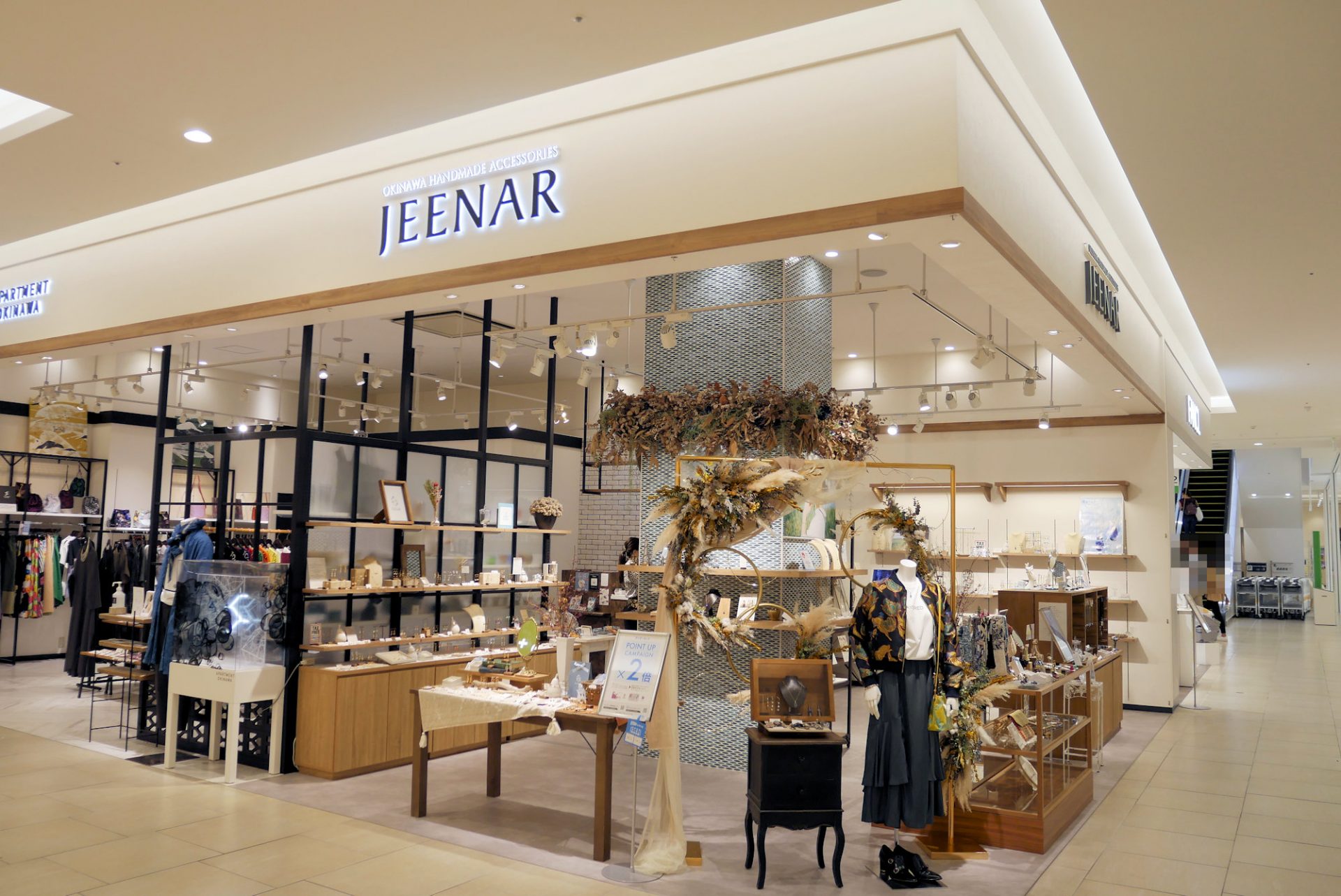 Jeenar is a shop that specializes in hotaru glass accessories, which are reminiscent of Okinawa's blue sea. With a variety of accessories such as earrings, rings, and bracelets, this shop is very appealing to women. As the items are reasonably priced, it is a great place to get small gifts.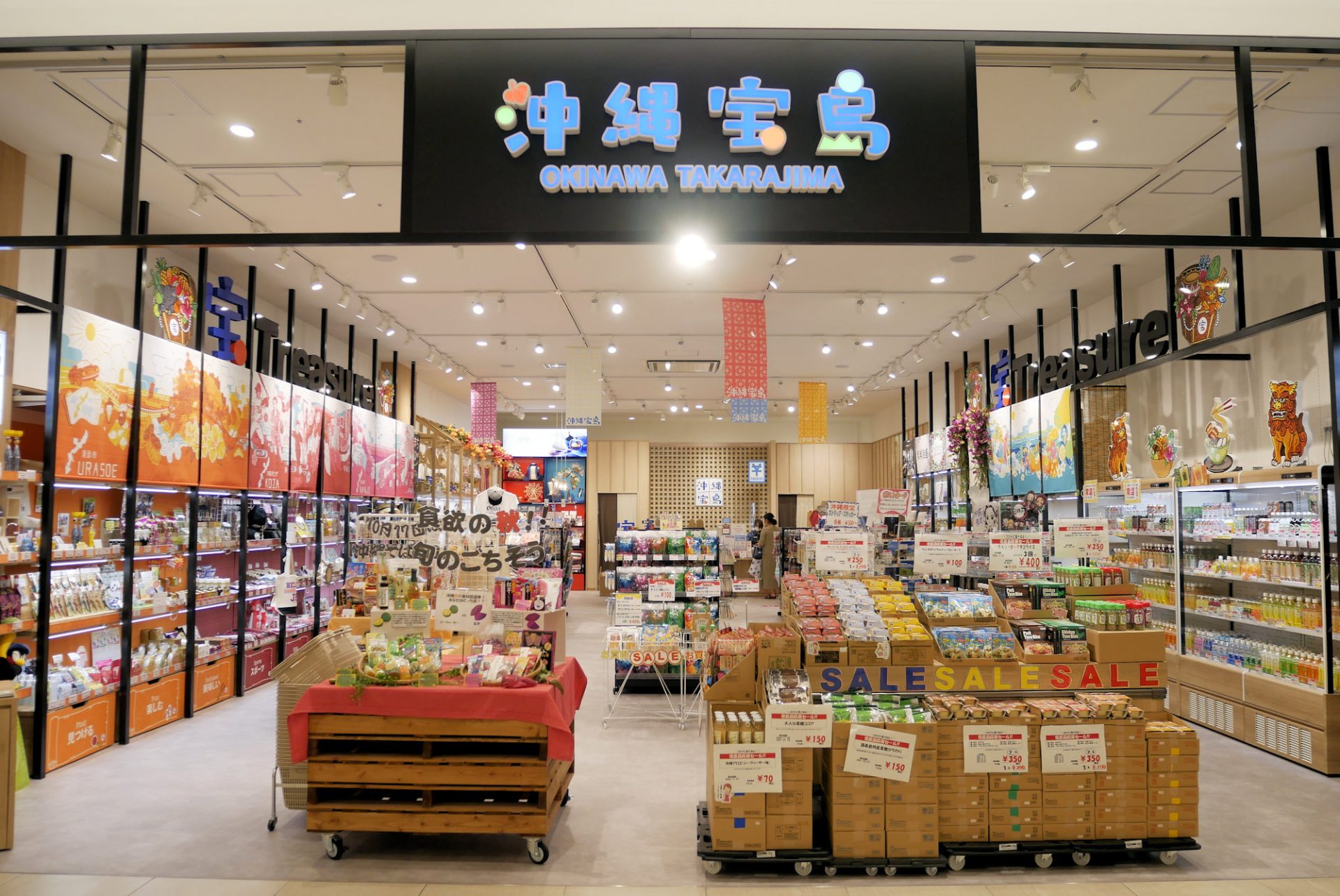 There are 2 souvenir stores in Okinawa Street. One of them is Okinawa Takarajima, which mainly sells Okinawan local food products, condiments, and drinks.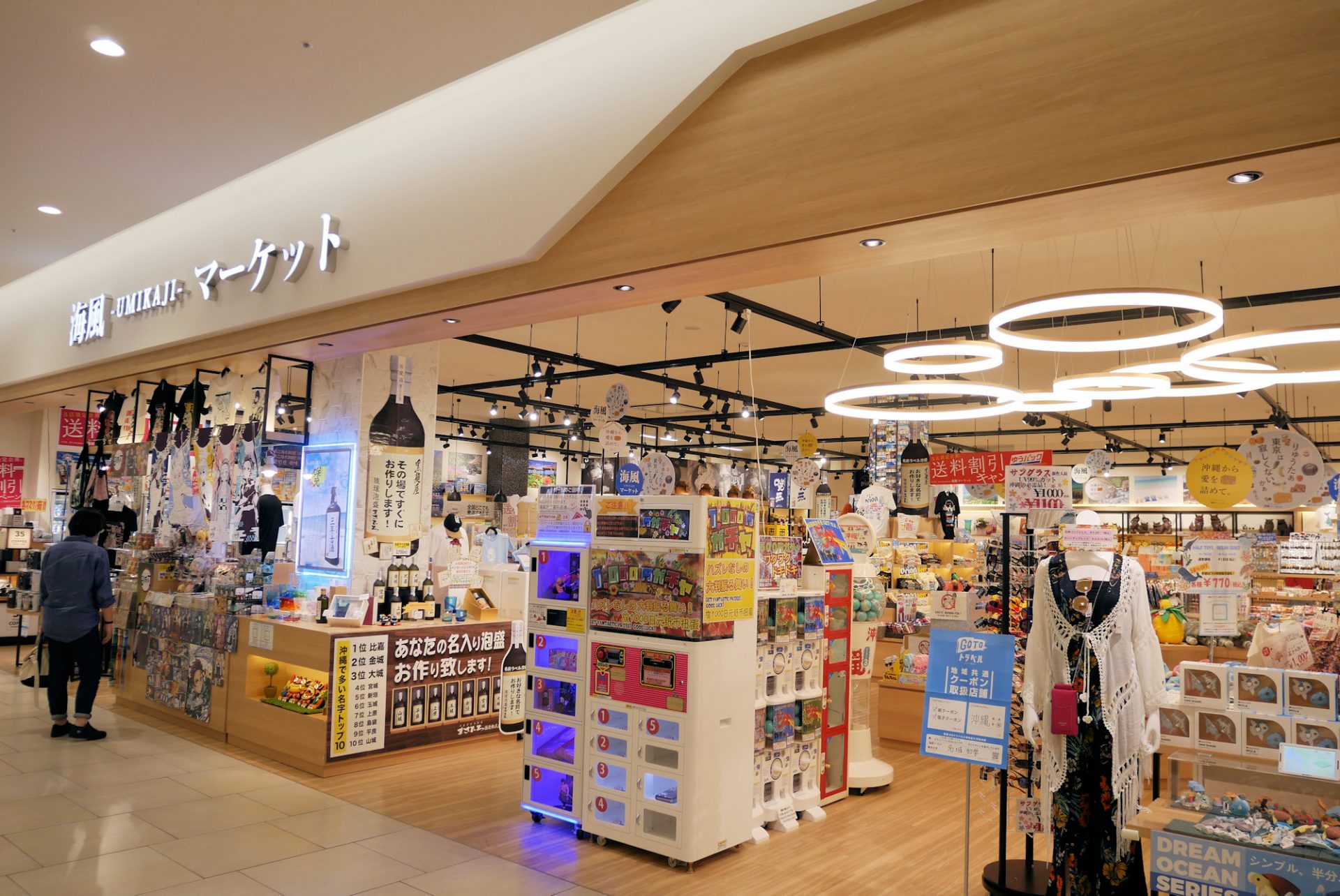 The other souvenir shop is Umikaji Market, which has a variety of non-food products, such as keychains and other items. We recommend these 2 shops if you're shopping for gifts or souvenirs.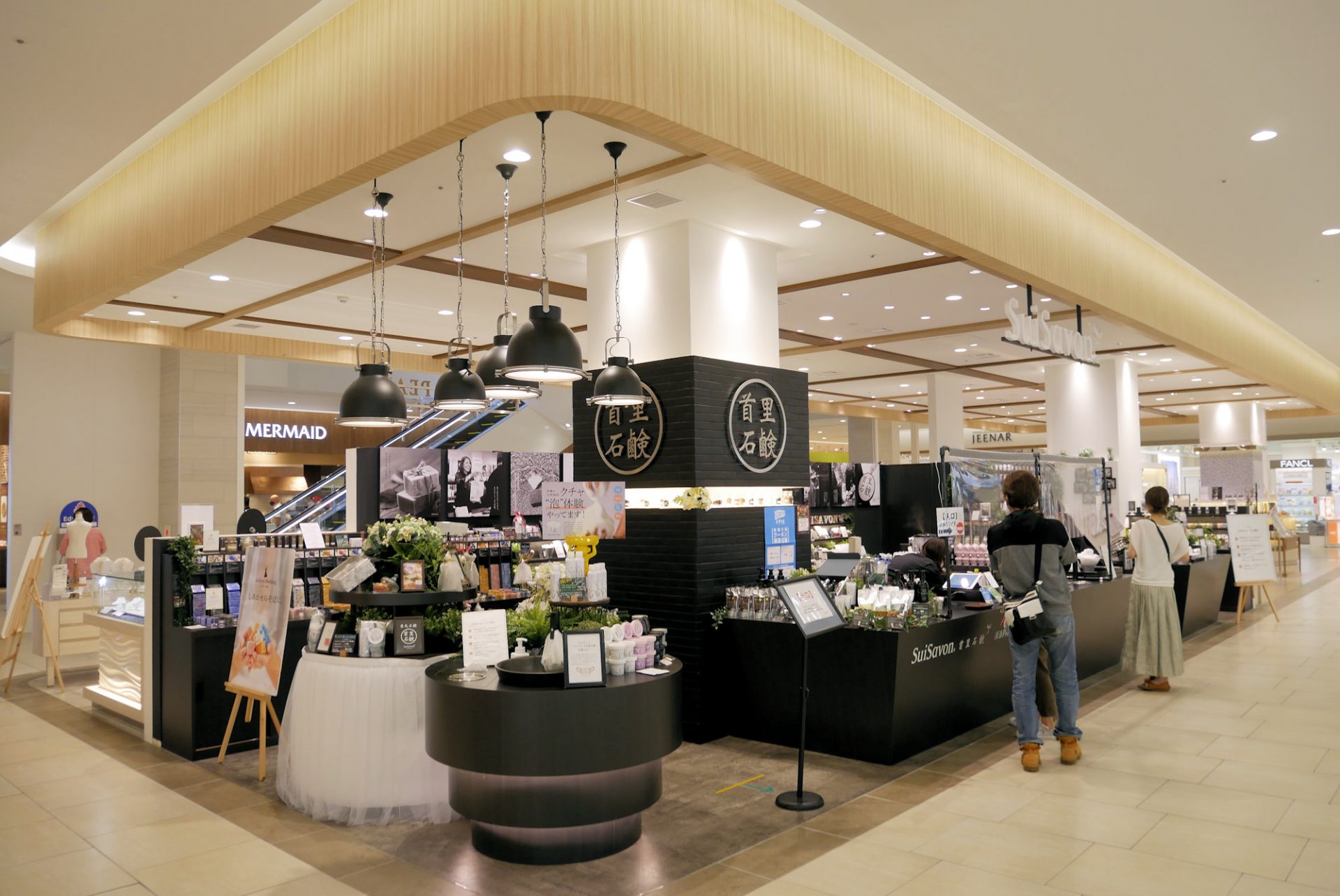 SuiSavon Shuri Sekken, a soap store, has been gaining popularity recently and you will understand why once you step into the store. As soon as you set foot in the store, you are sure to be charmed by the colorful soaps. The soaps are made using essential oils sourced in Okinawa and moisturizing ingredients –  what's more, they smell great!
Take a Break with Coffee & Okinawan Sweets!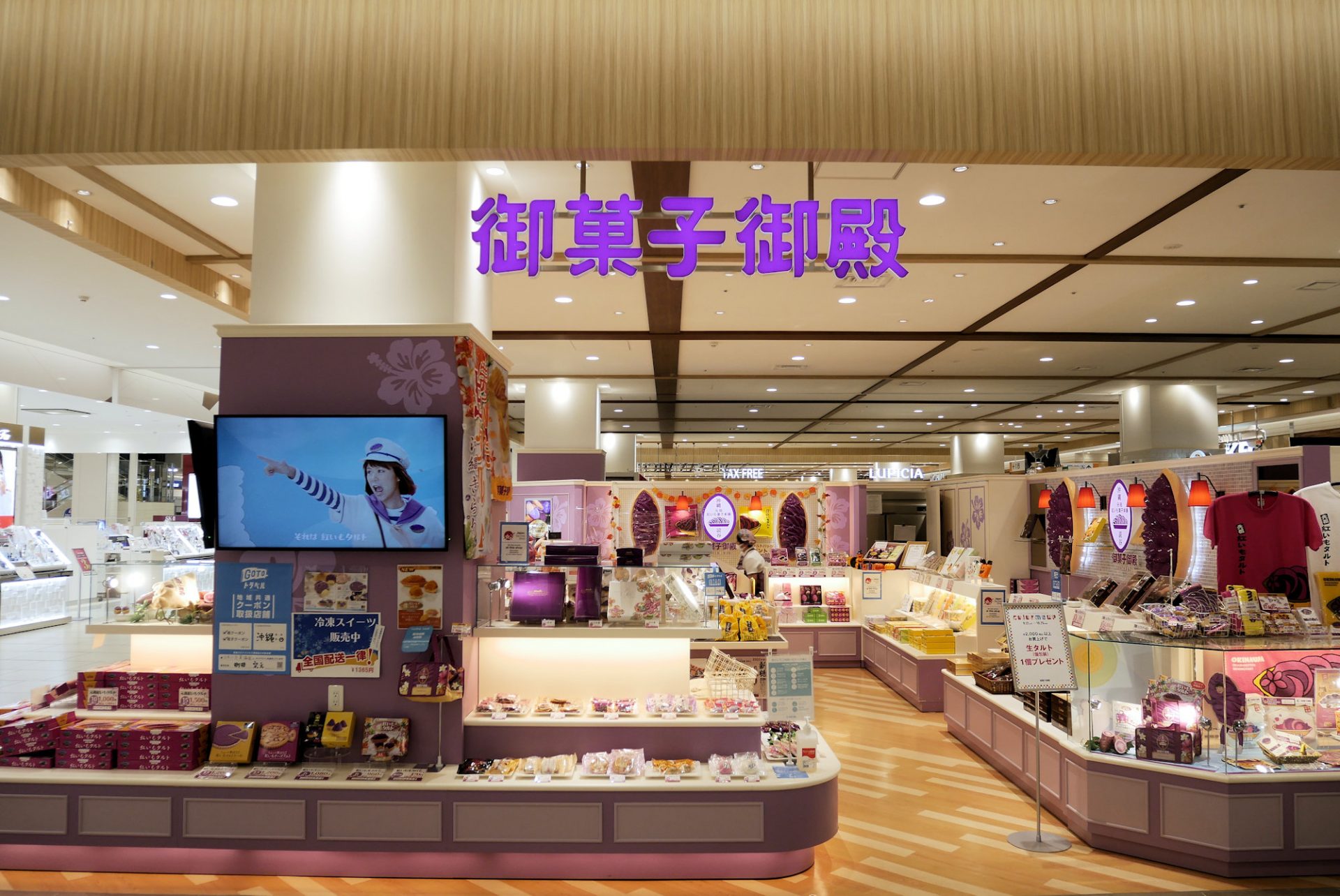 For those looking for the essential Okinawan souvenir, Beni-imo Tarts, check out Okashigoten, the original creator of the product. The tarts are produced in Okashigoten's own factory and are made with 100% purple sweet potatoes grown in Okinawa and do not contain any preservatives or food dyes.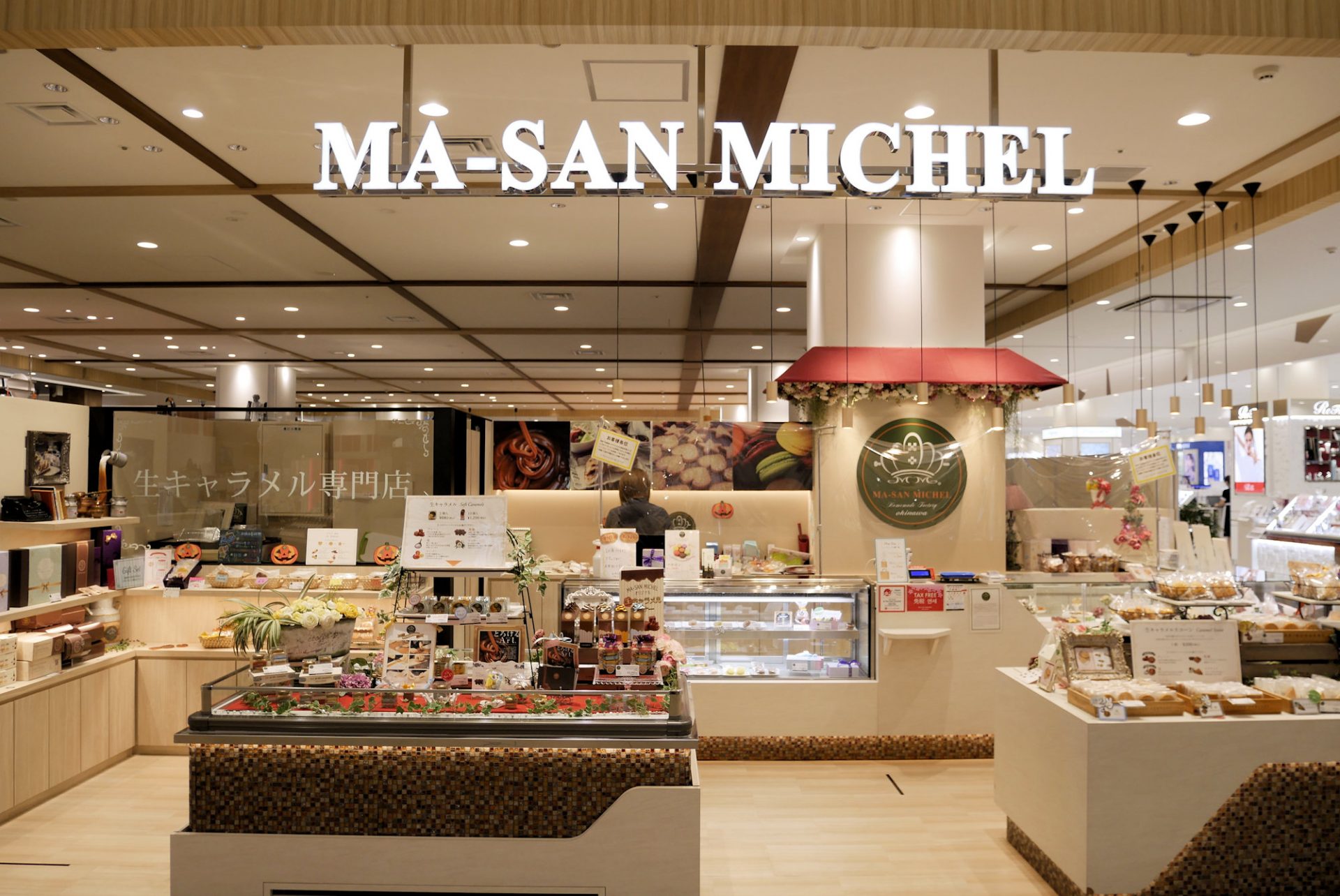 Ma-san Michel is a shop specializing in caramel. The shop's variety sets that include flavors found in Okinawa, such as brown sugar and mango, are especially popular items.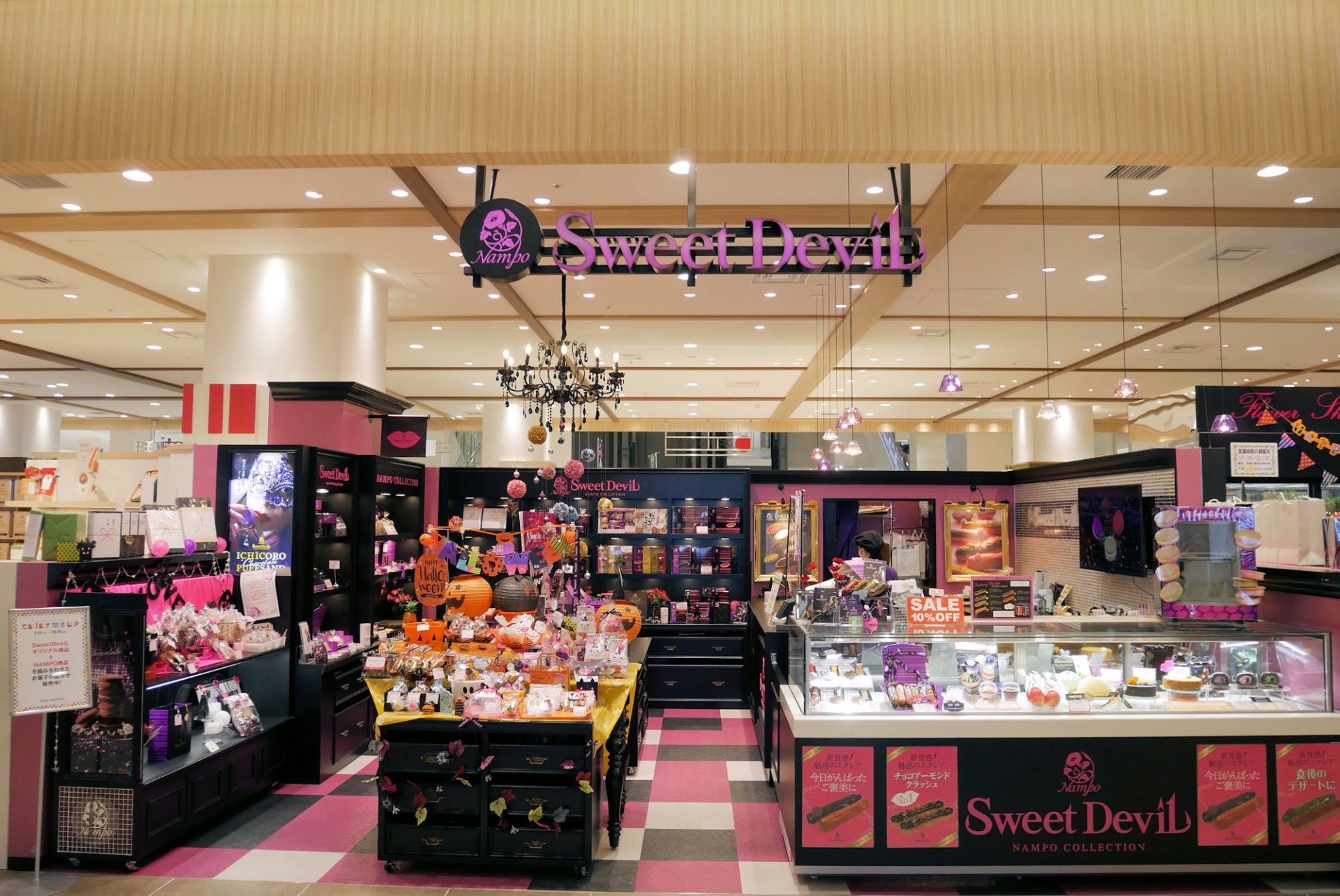 Nampo Sweet Devil is a shop run by the Okinawan sweets manufacturer, Nampo. Their most popular products are the vividly colored Fantasy Eclairs.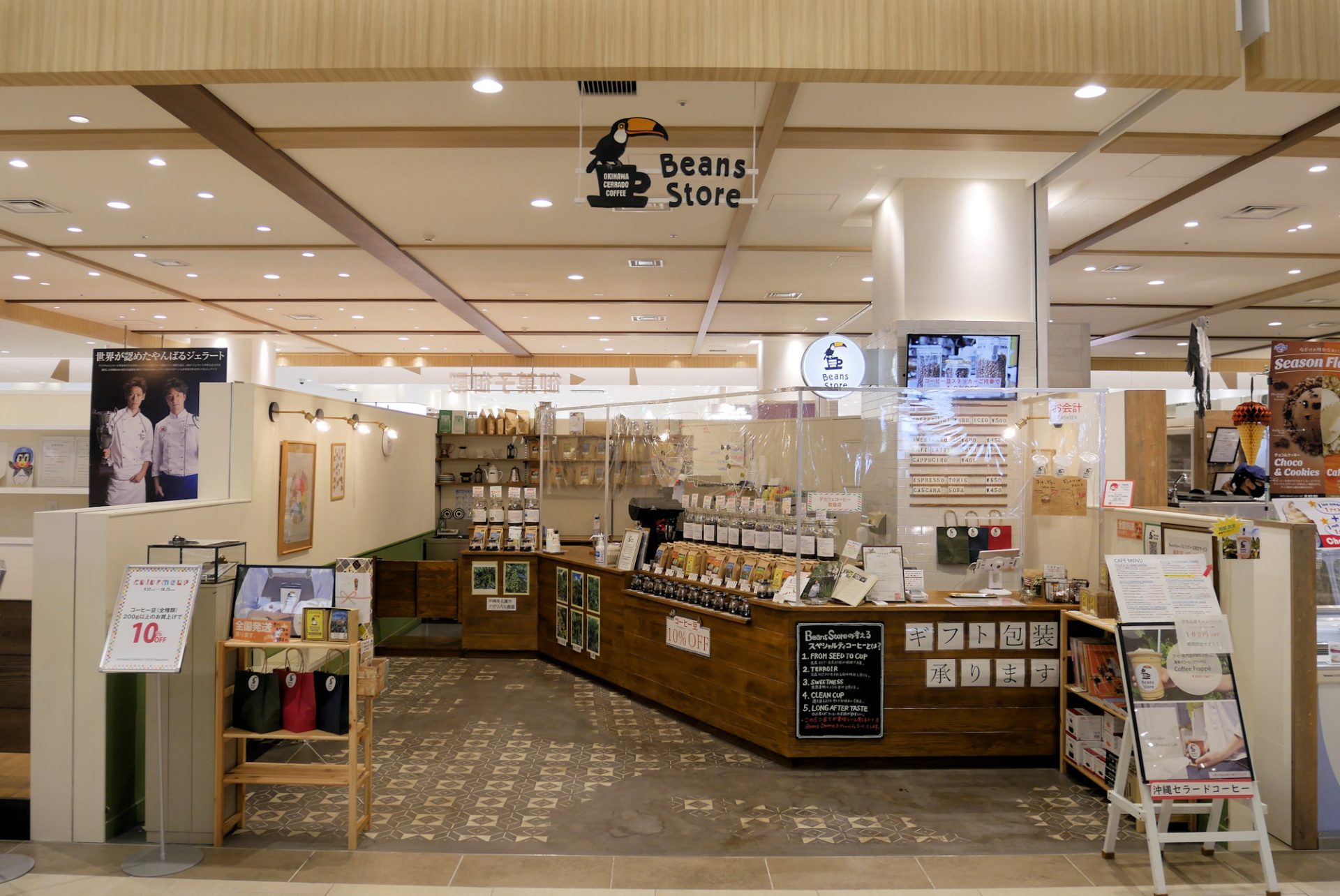 OKINAWA CERRADO COFFEE Beans Store is a long-established shop from Urasoe City that specializes in the roasting and sale of specialty coffee beans.  The coffee sold here is even used by many cafes and now can even be purchased at Parco City.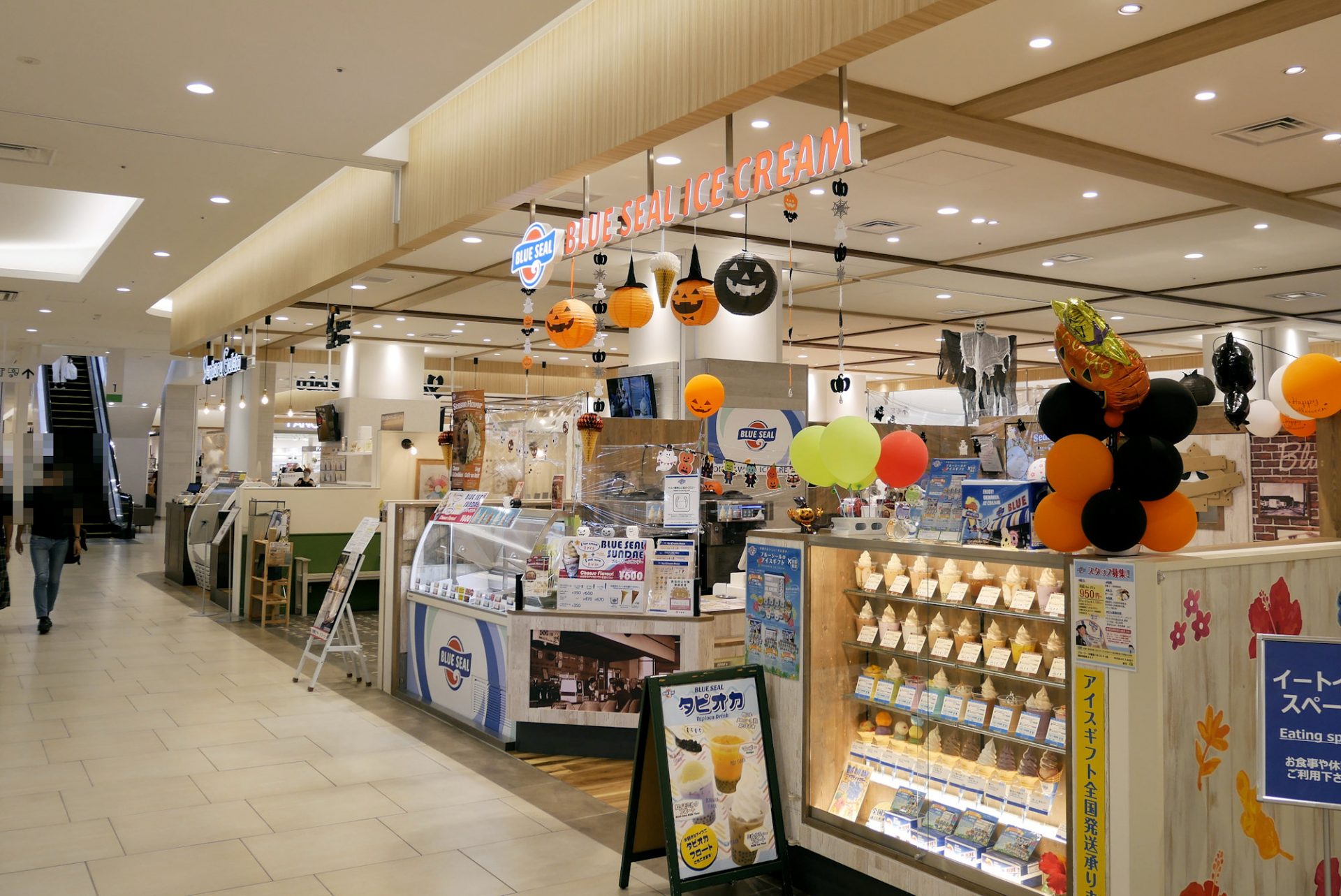 Blue Seal is by far Okinawa's most well-known ice cream brand. The beni-imo (purple sweet potato) and shio chinsuko (salt cookie) flavors are uniquely Okinawan and very popular! You can try the ice cream for yourself at Parco City!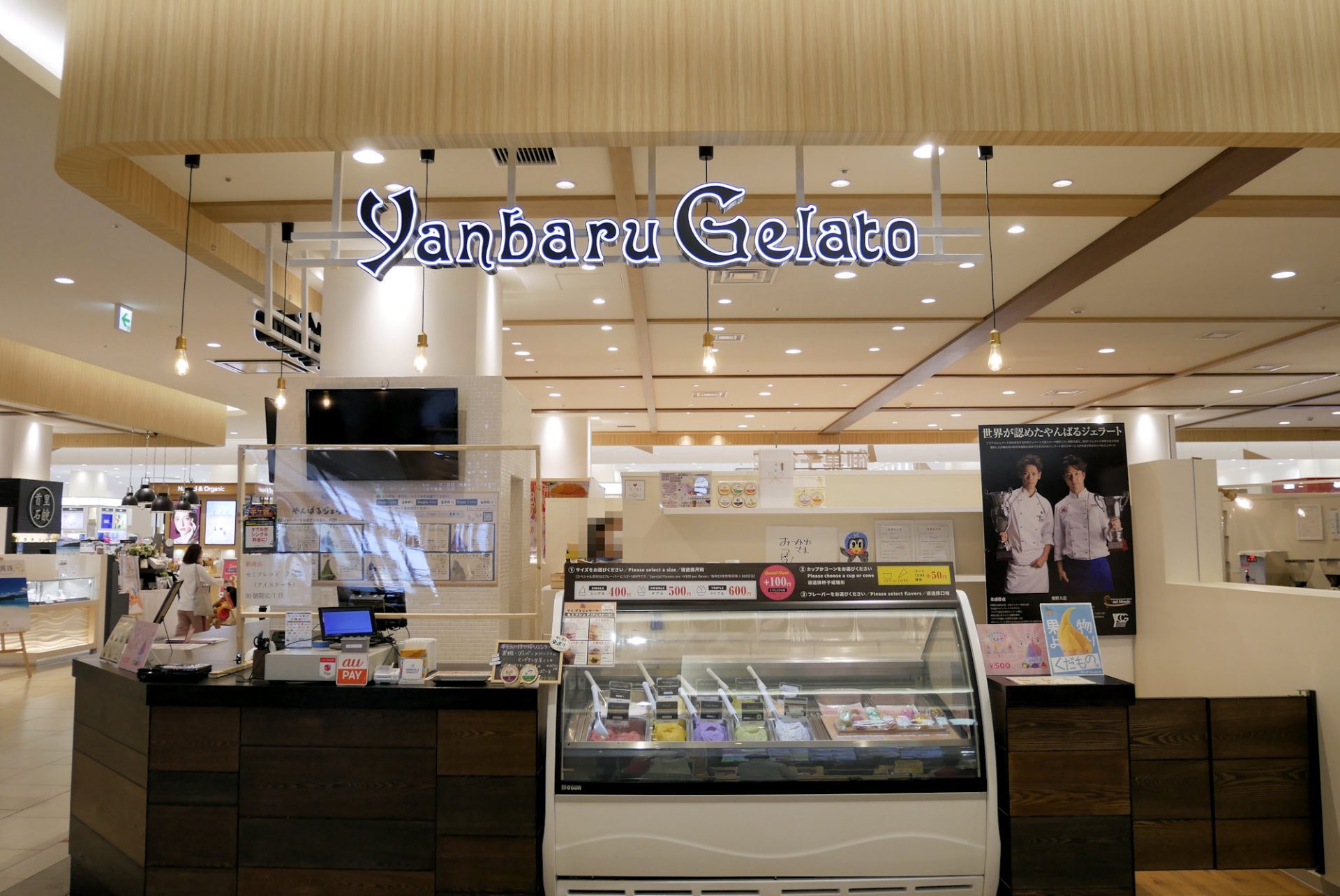 Yanbaru Gelato is a gelato shop where you can try gelato made by 2 gelato masters who are trailblazers in the Asian gelato market. The gelato utilizes the natural flavors of the ingredients and brings out the flavors of the fruits used.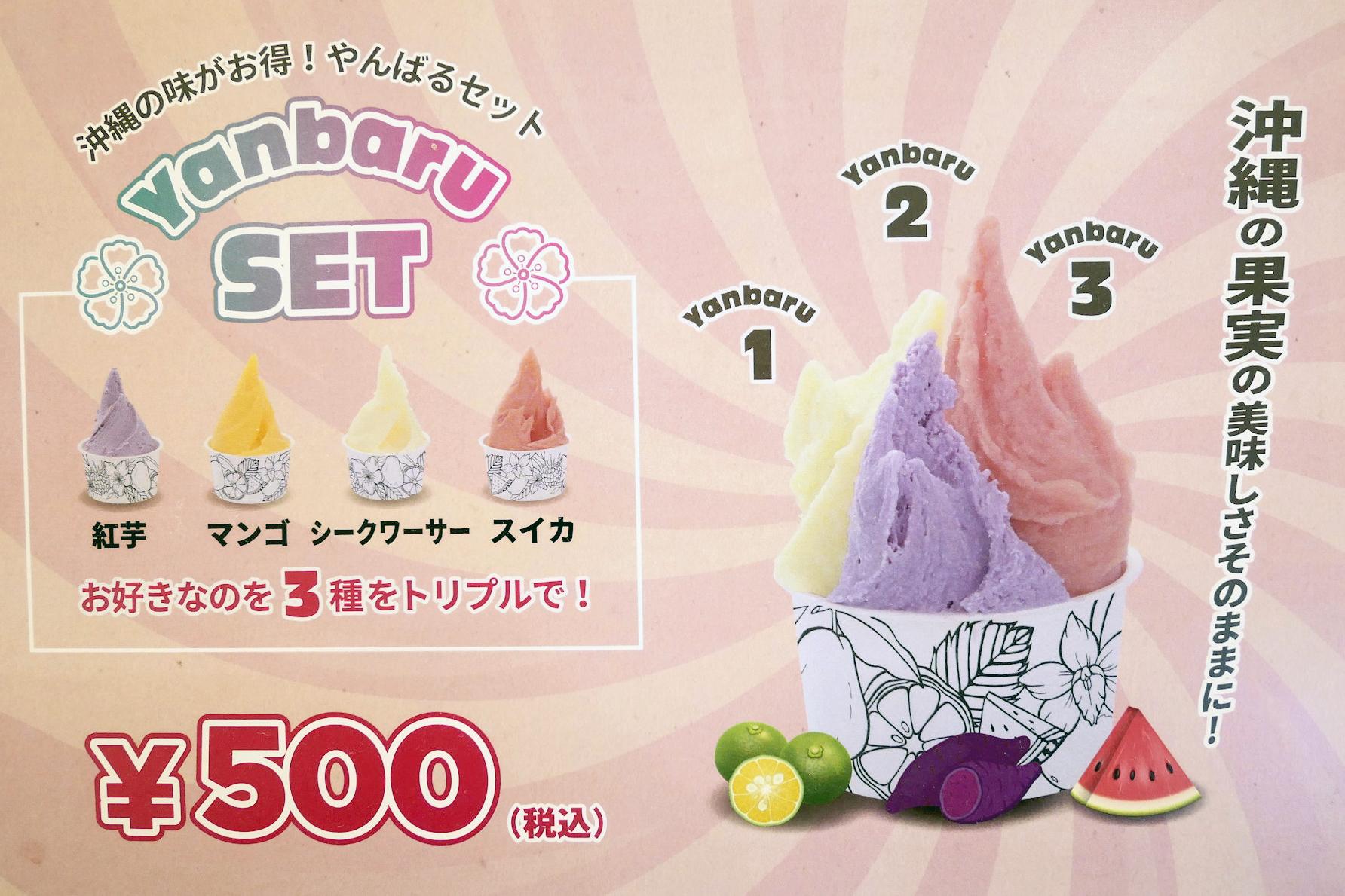 They even have a "Yanbaru Set", which includes your choice of 3 of 4 flavors: beni-imo (purple sweet potato), mango, shikuwasa (citrus fruit), and watermelon.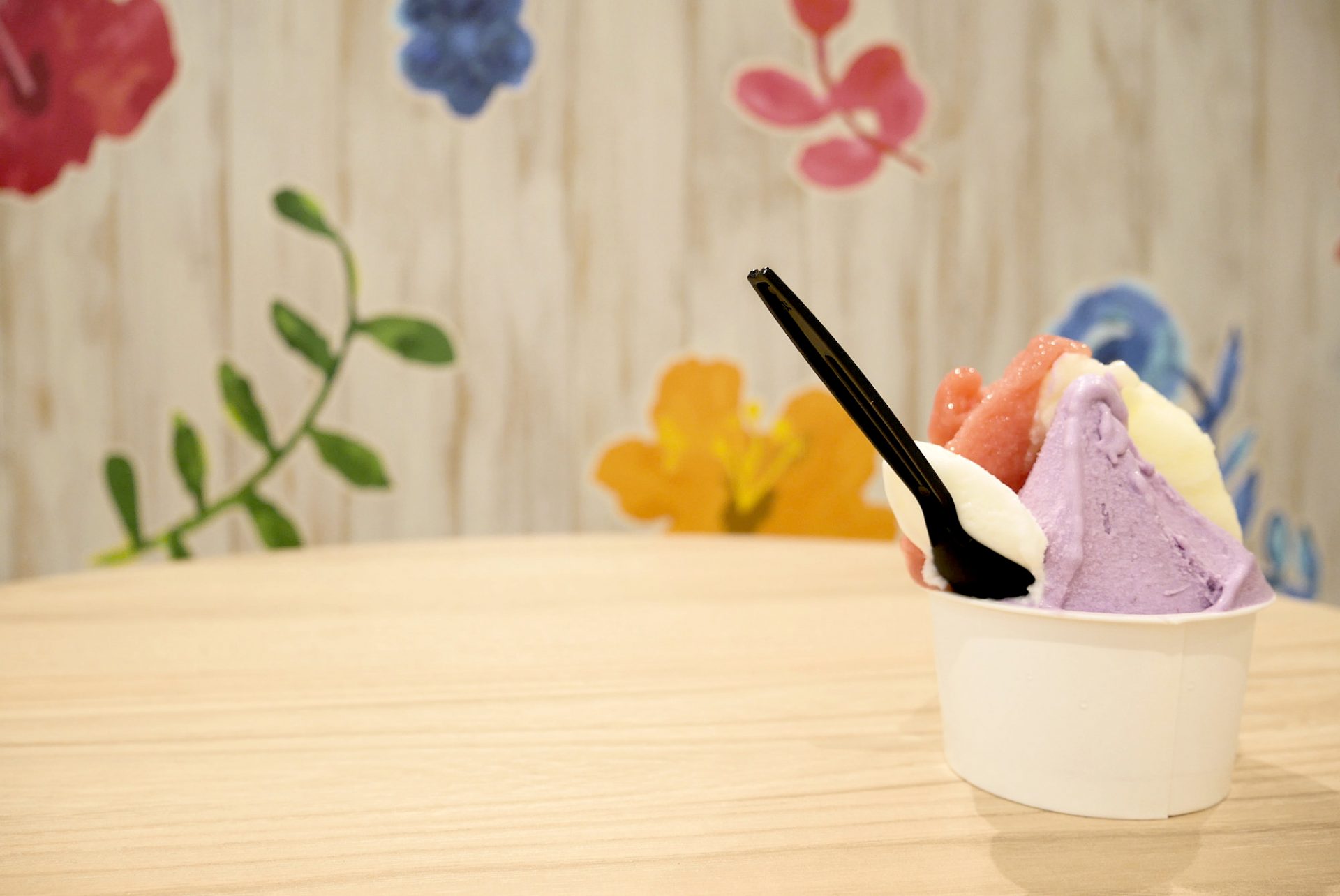 At just JPY 500 (with tax), it is a very reasonable price for 3 flavors! The gelato is not overly sweet and emphasizes the natural flavors of the ingredients used.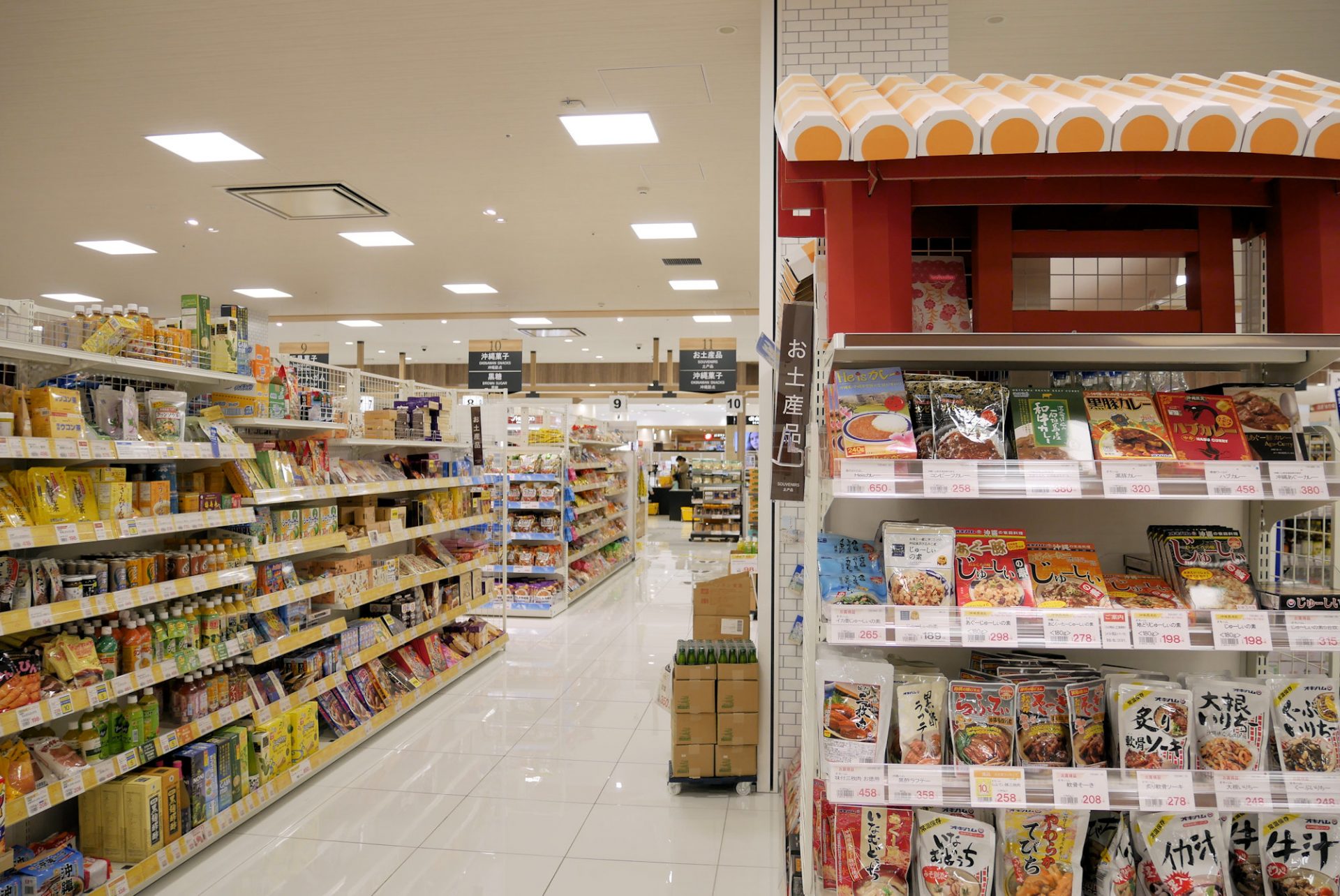 There is even a large local supermarket chain, San-A, located in Parco City. There is a great variety of souvenirs and gift products available at San-A. We recommend stopping by if you're looking to buy food and liquor and reasonable prices.
Check-out the Observation Deck at the Rooftop Parking Lot !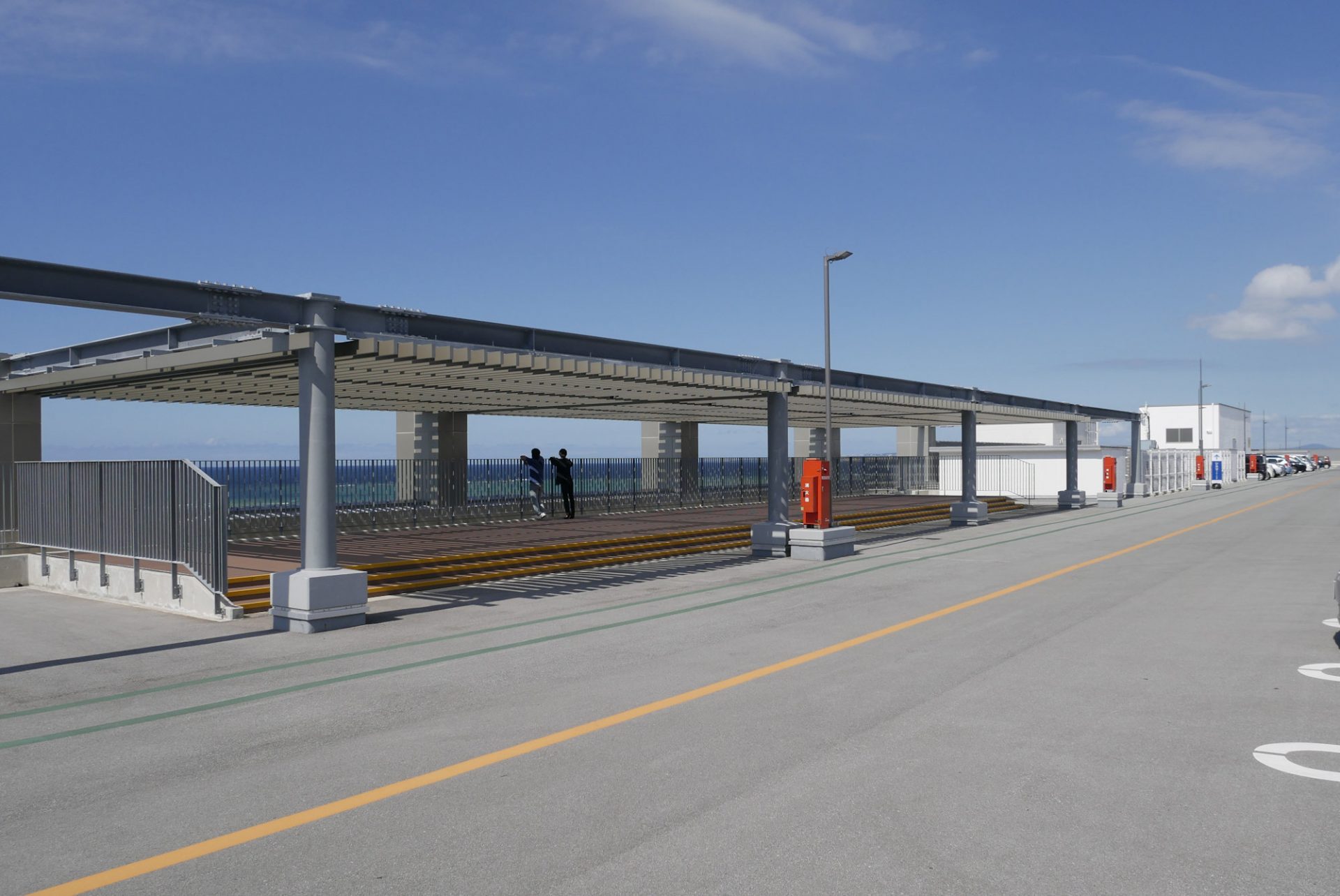 Finally, we will introduce you to a spot that is not known by many tourists. If you go up to the parking lot on the roof of the shopping center, there is an observation deck area with a view of the west coast.
On clear days you can enjoy the view of the blue sea and the sunset along the horizon during the evening. If you're planning a shopping trip to Parco City, we recommend taking some time to check out the amazing view.
There is a great variety of local shops in San-A Uraose Nishi-Kaigan PARCO CITY. Equipped with facilities for infants and a roof-top parking lot, the shopping center is very convenient. It's a great place to shop for souvenirs and gifts.
Facility Information:
San-A Urasoe Nishi-Kaigan PARCO CITY 
Address:3-1-1 Irijima, Urasoe-shi, Okinawa
Phone:098-871-1120
Business Hours:9:00 am-11:00 pm (hours vary by shop)
Closed: N/A
Parking: Available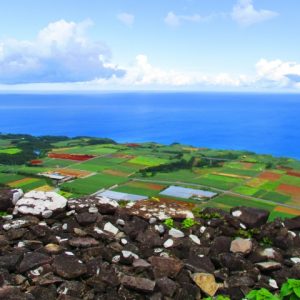 The person who wrote this article
maesato
List of articles by this writer